The hot humid weather having broken while I was in Ottawa, I was blessed with moderate weather and a good brisk tailwind. Consequently, I was in no hurry to leave the good company of my family, and didn't hit the road until around noon.
I had made the error of using the distance between my two points on Google maps to estimate how far I'd have to ride for the day, and then taking quite a different route (i.e. following the grid of local/country roads rather than cutting diagonally across it on a highway) and this added about 25-30km of unexpected riding, but the riding was good riding. I frequently found myself using my large chainring, and not wanting to interrupt the ride just to feed or water myself. I also took only one picture, to give a general impression of the scenery: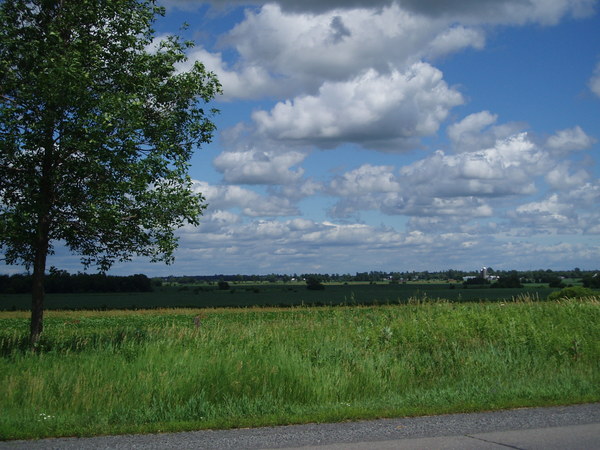 and made a quick stop in Alexandria to pick up some Gatorade (though I had originally planned on cream soda) to take to the home of the internet-friend with whom I'd be staying, for this:
Another mutual internet-friend (from Montreal, and therefore my subsequent host, and riding companion for the next day) arrived shortly after I did, and once we had both showered (and shot the hell out of Barney) our host treated us to an evening of good food, good company, and good scotch, all while we showed off our various pieces of gear. Ultimately, we retired at some time around much-later-than-I'd-normally-stay-up-before-a-riding-day.