After rising at around 9am, being fed a good breakfast, checking the outdoors store downstairs for propane (and getting referred to Wal-Mart), and then stopping by the public library to hop on the internet for about an hour and check my email, I was finally properly on the road at around noon.
I took a wrong turn somewhere in town (foolishly following the yellow signs alerting drivers to be alert for cyclists, thinking that I might actually be on some sort of common cycling route), and wound up at an interchange with Highway 11, which was divided, controlled-access, and had a prohibition on cyclists. The shoulder looked reasonably wide, and the traffic volume was far from filling up the available lanes, so I ignored the prohibition, and rode back north to Highway 17. This enabled me to have only added about 12km of unnecessary riding to my trip, instead of the 20 or so that backtracking to the wrong turn in town and taking it correctly would have required (assuming that I'd find and correct my error without making others). There was a distressed car getting a tow at one point, and that took up the shoulder, focring me into the lanes, but apart from that, the roadway didn't strike me as particularly stressful or dangerous in comparison with pretty much all of the other roadways in Northern Ontario.
Getting back onto 17, I continued East, and was able to pick up my propane cylinder in the service station/hardware store/general store at Gagne Road, around Eau Claire. I also got a few more pictures of the scenery:
And as I approached Mattawa the mountains in Quebec became quite plainly visible across the river: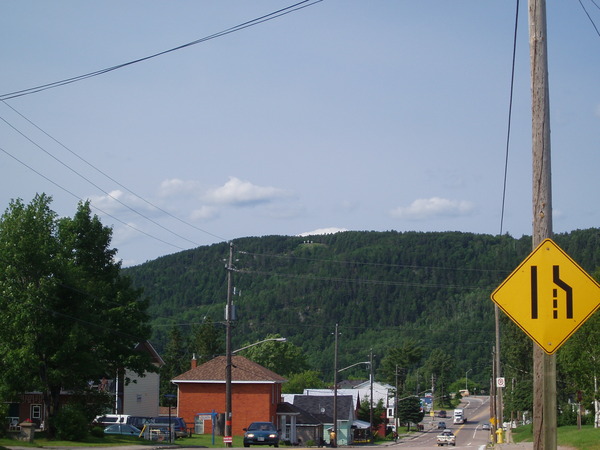 and then the terrain, in spite the road essentially following a river, got hillier.
This was actually immensely frustrating because, although the hills were quite small compared to the mountains in BC, and even a little smaller than the hills around Lake Superior, the weather had gotten quite hot and humid, and it was often necessary to stop partway up a climb simply to wipe off the sweat that was threatening to creep into the corners of my eyes (and when I failed to stop, the sweat, having been concentrated by the evaporation of plenty of sweat before it, and likely also containing a small amount of sunscreen, would make my eyes sting, and then I'd really have to stop).
Needless to say, I was beginning to develop an inclination to continue my rides later into the evening, so as to get a little more of my riding done when the air had cooled off a little. This would also allow me to put in a short day to Deep River, and allow me to stop before the day got too hot.
Towards sunset, I came across a picnic area by a lake, at which I stopped for the night. There were a lot of mosquitoes, and I downgraded my plans for a swim in the lake to wash myself after dinner to merely washing my face and hands in the lake, as I didn't want to offer up any more skin to the bugs than I had to. Returning to the tent after my wash, and pulling out my road atlas to mark the route I had followed for the day, I discovered that there was a small road just past where I turned into the campground, and that the name of that road is "Mosquito Trail". Clearly I was not the first person to have encountered a lot of insects in this area. I took my notes and went to sleep.