In spite of a forecast with probable showers developing late in the morning or early in the afternoon, I lucked out and managed to get dry weather pretty much all day. I started at around 8:15am, and made a stop after about 40km to top up my water, check some newer forecasts, and ask after some brunch (another 6km or so down the road, I scored some brunch at a restaurant recommended by a fellow at km 40).
The early(-ish) morning lent itself well to taking a few nice pictures:
as did the foggy early afternoon:
It being Sunday, there was a good deal of cottage traffic returning to the Soo which I had to share the road with, and I also found the road maintenance getting a bit sketchier as far as supporting said sharing was concerned.
Just before getting into the Soo, I got to climb Mile Hill which, while somewhat notorious locally, wasn't particularly daunting. I took a picture from near the top, already having had enough locals warn me about it, and tell me that I'd probably have to walk (in spite of my telling them that I'd started the ride by going across BC). I felt that it may be handy in the future to be able to compare pictures of Paulson or the Anarchist to Mile Hill and put it in perspective: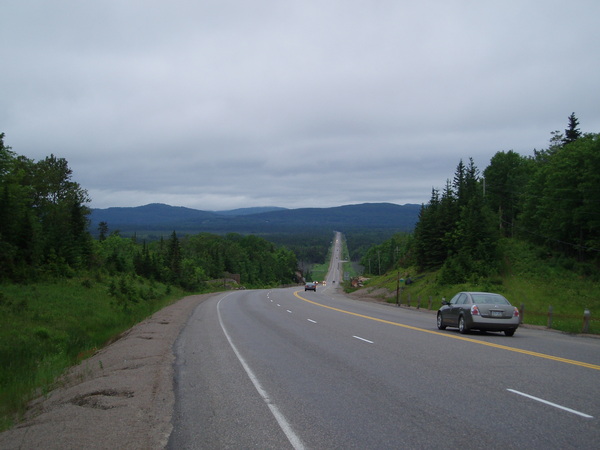 After a few instances of people just not listening when I'd tell them that a mile of climbing at what couldn't have been more than a 5% grade isn't particularly daunting after having done a climb of nearly 20 miles which were 8-9% grades for more than a third of the way, all the while climbing into a headwind while getting rained and snowed upon, or a little shy of 10 miles of 7% switchbacks basically going up the side of a cliff in the desert sun, I just started agreeing, and mentioning that I stopped partway up Mile Hill before finishing the climb.
That's not to say that Northern Ontario isn't without its challenges, but its challenges aren't so much the climbs as they are the underbuilt roads, borderline-hostile motorists, hot humid weather, and alarmingly dense insects.
Anyhow, I pulled into the campsite at Velorution in the Soo (free for cyclists), and set up camp to take a rest day after the week of slogging around Superior.